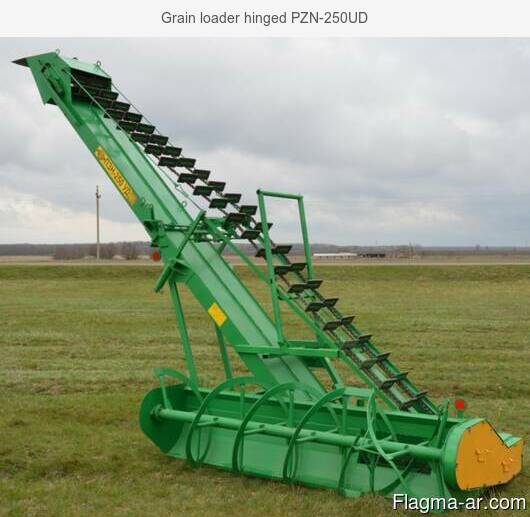 Grain loader hinged PZN-250UD
Цена не указана
Рубин Михаил Владимирович, директор
на Флагма с 6 декабря 2014

Grain loader hinged PZN-250UD
Purpose: loading of grain and other light bulk materials from the collar into vehicles and reloading of packed grain (wheat, barley, corn) on flat areas. The loader is productive and mobile.
Design features:
A feeder of screw type, which, in contrast to the scraper type, makes it possible to more efficiently select the packed grain. The connection with the tractor is made by the BSU (fast-connecting device).
At the request of the customer, the PZN-270.000 can be equipped with a tractor creeper driven by tractor hydraulics, ensuring smooth operation and protecting the clutch and tractor PTO from breakage.
Name PZN-250 PZN-250UD
1. Type hinged mounted
2. Productivity t / hour 250 250
3. Feeder screw auger
4. Transport body scraper scraper
5. Height of loading of vehicles, mm 2850 3400
6. The width of the feeder, mm 2700 2700
7. Weight, kg 730 820
8. Dimensions in the working position LxWxH, mm 4920x1920x3800 4920x2020x4075
9. Dimensions in the transport position LxWxH, mm 3150х1912х2480 3150х1912х2480
It is aggregated with class 1.4 tractors.
Обновлено: 26 июня 2019, 03:43
просмотров: 11
Похожие объявления