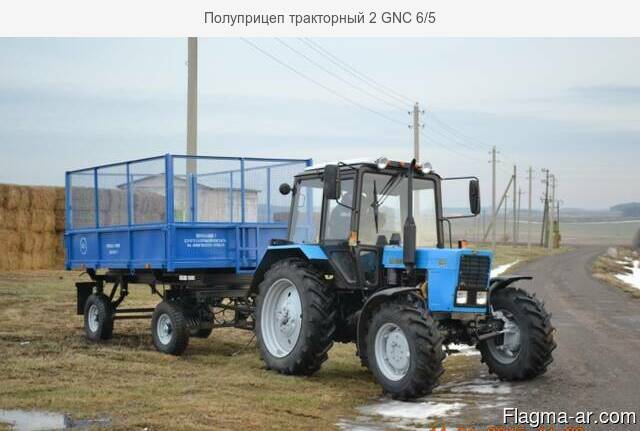 Полуприцеп тракторный 2 GNC 6/5
Цена не указана
Рубин Михаил Владимирович, директор
на Флагма с 6 декабря 2014

The trailer is intended for transportation of various agricultural freights by all views of roads and in field conditions. Transportation of loose construction freights, except for rocky breeds and a cobble-stone is allowed. For increase in volume of the transported freights and increase in a cubic capacity of trailers nadstavny boards are offered: nadstavny all-metal boards, nadstavny mesh boards. The trailer is calculated on operation at ambient temperatures from minus 40os to plus 40os. A freight slope from the platform on three parties.
These characteristics provide reliable and long-term operation of the trailer.
The trailer is intended for operation with wheel tractors of classes 1,4 - 3,0, having a separate and modular hydraulic system, the traction coupling device in accordance with GOST 348-79 and also conclusions for connection of pneumatic system of brakes, electric equipments and hydraulic systems.
Hook-on type
Loading capacity, kg 6500
Body volume with the main boards, m ³ 5,5
Body volume with nadstavny boards, m ³ 10,0
Body volume with mesh boards, m ³ 14,0
Area of a body, m ² 9,1
Quantity of axes, piece 2
Size of a track, m 1,85
Quantity of wheels on each axis, piece 2
Base, m 2,7
Transport speed, km/h, no more than 30
Weight is constructional, kg of 1650
Distribution of constructional weight with freight on axes, kg, no more:
on forward axis 4210
on back axis 3890
Overall dimensions (with dyshly), mm
length 5900
width of 2310
height of 1910
Number of the parties of unloading 3
Road gleam, mm, not less than 300
Height of boards of the main, mm 630
Height of boards nadstavny all-metal, mm 485
Height of boards nadstavny mesh, mm of 1000
Height of loading, mm
on a body floor of 1280
on boards of 1910
Body angle of lead (on an inclination of half of the platform), °
when unloading back 50
when unloading on the parties 50
Number of service personnel 1
Type of the brake system Pneumatic, two-wire (on two axes), on all wheels
Type of brake mechanisms Drum
Service life, years, not less than 10
Time between failures II and III groups of complexity, h, not less than 500
The parking brake system Mechanical, with the manual drive
Working pressure in a hydraulic system, MPa 20
Time of raising of a body, with 50
Internal sizes of a body, mm
length 4020
width of 2150
The size of wheels 6Lx16, 6.00x16, W7x16 with the tire 9,00х16, or 10.00х16, norm of a sloynost 10.
Обновлено: 26 июня 2019, 03:43
просмотров: 34
Похожие объявления